Value of Internship for Students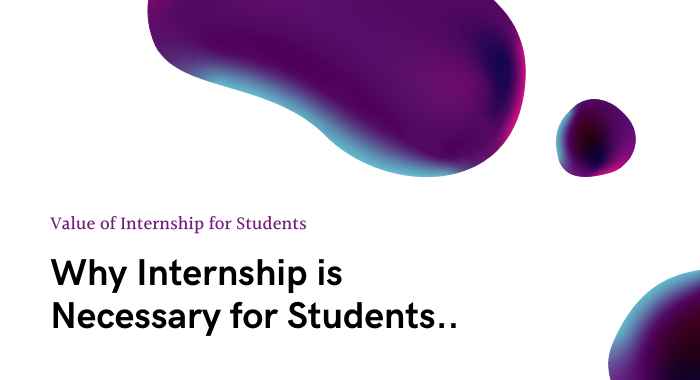 The internship is very important for the students as it is the best opportunity to experiment and have a bright career. Even though they are a large number of unpaid internships available but some of the best institutes are recognized with the true value of having good standards. In fact, there are many benefits of completing internship, which helps in building the academic standards and also lays the foundation. Apart from all these the internship will help in building the individual development of composed teamwork, but also helps in learning more from each other. Additional it also provides the students with the innovative spirit of exploring jobs that will easily help them to build a strong spirit to find the right jobs.
New reasons why you need to do the internship are given below.
It is the better way to get a job opportunity as the employees would like to select the candidates who enter into the internships.
Helps in creating the friendly environment with each other so that you will have the basic knowledge how to mingle with employees or any organization.
In reality, people who have taken internships will have more value and are paid much more than others.
It is something like earning best institute credits towards your own educational standards.
The internship will help in making your career plan for a test drive that gives much more experience.
It is a best way to explore many things and know about the waste how to Course work for future job aspects.
It will build motivational spirit and create working habits.
Knowing about industry
The students should understand the basic importance of internship and should examine each and every stage in it. They should also have the ability to question the step to provide them with the better opportunity to get into valued internships. It can be even beneficial to interview the employees in order to ensure that the internship is very informative and useful. The students are also given stipend based training for all the individuals so that they can have basic knowledge of what is going to happen when they enter into any company. This is an ideal way which determines your field of interest. You can easily bridge the internship and make a platform to achieve your goals. It is given more easy to get the job and make your career to be a successful one. Remember that an internship is a way to get a job and it acts as the address to drive to know your interest.
Helps as networking
As already said internships are a great asset to build professional careers in all aspects. The best institute provides the best way to learn more things from the internship. And at the same time it helps in building good relationships along with which the students can have a bright future. Making good relationships can help you when you get a job in any multinational sectors. The internship as processed in the industry will give opportunity to learn about the employees working there and can also support in providing better job opportunities. If you can build your own standards including hard work and the way to communicate with all the internship members then it creates a friendly environment. And it's important to stay in touch by developing a network of contact. It is not only important to establish a contact but also necessary to make sure that It stays for a long time. If in case you need any suggestions when you can contact them to know how to go further.
Build your own resume
Before you enter into a workspace the internships will act as a great way to build your own resume in an interesting manner. And most of the schools intend the students to complete the internship and it is made mandatory for few schools as well. Even if your school does not provide internship you can also go externally and explore your knowledge and learn more from the internship. In the resume, you can make a brief note on what type of internship you have taken along with what sort of Ideas you have learned from them. Especially the skills you learn from the internship will grab the attention of the company which may help in giving you better opportunity to be successful in their institute.
A stepping stone to success
Most of the employees look for better ways to explore their job opportunities. And the companies also provide an internship in order to explore the potential capabilities of each individual. The recruitment process will be very easy for them to understand who can survive in the organization. This could be something like an interview process for the company so that they can hear capable employees in their company.
The future of internship
Students who have taken the internship will definitely have a bright future as they can learn lots of things. And it has become one of the most integral parts of the employees during the hiring process. In fact, they are many organizations who are also showing interest to provide some information for their students to build up their own skills. They provide the students with stipend based training that can be helpful for them throughout the career. All resorts of skills will provide the students with to achieve their goals and make a standard Foundation that can help them throughout the life.