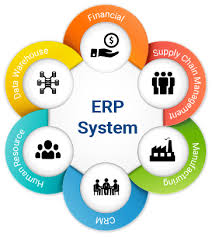 A large complex organization is never that easy to manage, but things can get a little easier if the entire data flow of the company is enabled by a central database.
ERP is a way to solve most of your organization issues. But the biggest trouble is to find out the most suitable product for your organization when there are countless products in the market. Because nobody wants to pull the trigger on failed project. So, it is crucial to go through the benefits of the ERP system of OXO Solutions®.
Advantages of the ERP System
Brings real-time information that lets you make finer business decisions and ensures that all the data is updated and precise.
It improves the collaboration at different levels and lets the employees to see the company's "Big Picture".
It removes the repetition in workflow and monotonous manual tasks and also saves employees time.
Reporting and quoting becomes becomes effortless and more customizable.
Complete view of Business Operations such as sales, customer service, planning, accounting, production, distribution and HR all integrated at one place. This makes things easier to manage as any change in client's order can be made without stress.
The seamless integration allows the sharing ideas, coherent decision making and improved customer experience.
It helps in reducing the business labor, additional infrastructure and operating costs. It is the best way to manage time and company resources.
General and Configurable Accounting Features
Accounts payable
Accounts receivable
Cash management
Bank reconciliation
Expense management
Time tracking
Fixed asset management
Multi-currency support
Multi-division support
Regulations compliance
Electronic tax filing
Self-service portal
Global Financial Support
Intercompany Accounting
Journals and Reconciliations
Enterprise Accounting
Configurable Accounting
Centralized Rules Framework
Standardized Processes
Security Features
Role-based user permissions
Single sign-on capability
Multi-factor authentication
User-level audit trail
Customization Features
API for custom integration
Plug-ins
Inventory Management Features
Inventory tracking
Location management
Order Management Features
Pricing
Order entry
Credit card processing
End-to-end order visibility
Payroll Management Features
Reporting & Analytics Features
Dashboards
Standard reports
Custom reports
Additional Features
Subscription billing
Revenue recognition
Collaboration/Social
Multiple chart of accounts
Multiple reporting books
Multi-dimensional reporting
Graphs/Charts/Performance cards
Report visualizations (conditional highlighting, color grading, trendlines, etc.)
OXO Solutions® is among top custom ERP software development companies that deliver perfect enterprise solutions, focusing on your business success. Use our advanced ERP systems and increase your company efficiency.
Enterprise Resource Planning (ERP) is business management software that integrates all the data on business processes and resources (product planning, manufacturing, purchasing, delivery, marketing, sales, finance, human resources etc.) and can be used by large, medium, and small businesses. In addition, nowadays each ERP system should be created according to the specific requirements and needs of the individual enterprise. As a rule, small and medium businesses acquire lightweight ERP applications that have a specific set of functions (features) to meet the needs of a certain business vertical. The creation of powerful custom ERP software that covers all the business processes and roles of a large enterprise requires a dedicated team of experienced developers and analytics.
The most popular ERP Modules are:
Manufacturing

Inventory

Marketing and Sales

Human Resources
Supply Chain Management

Distribution

Financials and Accounting

Purchasing
Customer Relationship Management

Business Intelligence

Analytics and Sales
Testimonial
---
Alisha Sharma
"We moved to ERP system of OXO Solutions® and it proved to be our right decision and beneficial."
Alisha Sharma
ali.sharma@yahoo.com
G.S. kapoor
"It is a great system for the organizations, we are reaping it's benefits since 2016. As, it keeps on improving the functionality of system. "
G.S. kapoor
gkapoor51@gmail.com