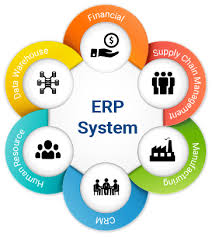 Enterprise Resource Planning
OXO Solutions® is among top custom ERP software development companies that deliver perfect enterprise solutions, focusing on your business success. Use our advanced ERP systems and increase your company efficiency.
Enterprise Resource Planning (ERP) is business management software that integrates all the data on business processes and resources (product planning, manufacturing, purchasing, delivery, marketing, sales, finance, human resources etc.) and can be used by large, medium, and small businesses. In addition, nowadays each ERP system should be created according to the specific requirements and needs of the individual enterprise. As a rule, small and medium businesses acquire lightweight ERP applications that have a specific set of functions (features) to meet the needs of a certain business vertical. The creation of powerful custom ERP software that covers all the business processes and roles of a large enterprise requires a dedicated team of experienced developers and analytics.
The most popular ERP Modules are:
Manufacturing

Inventory

Marketing and Sales

Human Resources
Supply Chain Management

Distribution

Financials and Accounting

Purchasing
Customer Relationship Management

Business Intelligence

Analytics and Sales