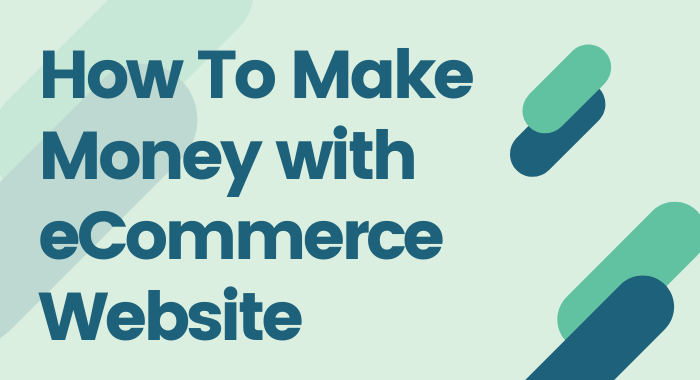 There are a lot of people out there who are making a lot of money with their online stores and living a good life. If you are looking to make extra money and fill your wallet using the power of the internet, this article is for you.
Well, in today's world the internet is a major source of communication and can serve as a great tool for making a lot of money. The internet is a huge repository of information and you can use it to find different ideas and opportunities for your e-commerce business or website to make money and make a living from scratch.
You just have to be more specific with the products/services you provide to other people. But your luck won't be enough to succeed in the affiliate business, you need to put more effort into this. Once you are able to do this, you will have many benefits.
Probably a major source of online money making is through e-commerce websites. If you have websites full of content and products, you can easily make money online.
As the success of any internet business depends heavily on its website visitors, it is important that you learn the art of increasing website traffic through various online marketing channels, including Google organic search, social media, paid to advertise, Etc. are included but not limited. Once you get an idea of the various tips for increasing web traffic, notice that half of your job is done.
Different strategies to help you make money from e-commerce websites:
There are many marketing techniques you can use to make money with your eCommerce website. To sell more you need to use the unique methods then your competitors.
How to Develop eCommerce website portal:-
There are many programming languages that you can use to develop a user-friendly website to make money online with your eCommerce portal, but if you're not good with coding still without worrying you can create an eCommerce website for free using website building platforms like WordPress and Darlic®, etc.
---
---
How to increase traffic on your eCommerce website:
Affiliate Marketing:
This is one of the most common and profitable ways to make money from e-commerce websites. It is a kind of agreement between one or more participants and the merchant or advertiser.
You can use your website as an affiliate to advertise merchant products and services. As the customer clicks on the product and buys it, you are paid a portion of the profits earned by the merchant. Some of the popular affiliate marketing programs are Google AdSense, ClickBank, and so on.
Ad cost per mill:
This method works with most blogs. In this process, you are paid according to the number of page views generated by the ads displayed on your site. For example, a blog that produces 100,000 pages can help you earn around 100 per month.
PPC Advertising:
Google AdSense is one of the most popular options in this category, but there are others. Basically, you need to sign up with the network and paste some code snippets on your website. The network will then provide relevant ads (either text or images) related to your website, and you will be able to earn a certain amount for each click. The profitability of these PPC programs depends on website traffic, click-through rate (CTR), and cost per click (CPC).
Direct Banner Advertising:
You can sell your website space to certain advertisers for a refund. In most cases, the most popular banner formats found on the web are 728x90 leader board ads, 300 × 250 rectangular ads, and 125×125 button ads.
Sell your own products:
You can sell your own units to your target audience on your web store. You need to create a product catalog on your store so that people can browse and select the products of their choice.
In addition, you can implement some other strategies to publish paid surveys and polls, participate in affiliate programs of market online marketplaces, pop-up and pop-under ads, audio ads, monetization widgets, etc.
Hopefully these ways will help you to make money and profit from your website.