The only way to achieve steady growth is to engage with leads and customers, get insights about your business and by creating a scalable process.
And, all this is possible if you have a reliable platform, where you can manage all the clients. Moreover, a single platform that handles multiple client related data brings productivity.
Have a glance at the features of CRM that can bring success to your company.
Features
---
Advanced Lead Scoring
Interactive Pipeline Management
Integrated Phone & Email.
Email Tracking
Sales Campaigns
Personalize Templates
Insightful Email Metrics
Team Inbox
Sales First Inbox
Open & Click Notifications
Email Scheduling
Calendar Sync
2 – way Email Sync
Email-to-Lead, Forward Emails
Click to Call
Entire Conversation History
Assign Phone Numbers
Automated and manual Log Calls
Personalized Welcome and Voicemail Messages
Forward Call
Record Calls
Tasks & Appointments
Bulk Actions
Role-based Access
Visual Sales Pipeline
Deal Status, at a glance
Simple drag and drop Navigation
Action-oriented Follow Ups
Track deals on the go
Deal age
Mobile Integration
Deal Funnel View
Filter and Sort Deals
Call History
Phone Activity reports
Caller Display
In-depth Customer
Insights
Website and in-app Tracking
Activity Timeline
Behavior-based Segmentation
Web-to-Lead
Smart Fields, 360° Customer View
Lead Scoring
Auto Profile Enrichment
Team Segmentation
Auto Lead Assignment
Appointments
Tasks and Notes
Jot down notes
Change stage with ease
Track deals on the move
Fix meeting, find location
Custom Views
Automation
Customize Sales Process
Pipeline Dashboard
Lost Deal Analysis
Customized Reports
Visual Sales Reports
Revenue Analytics
Deeper Analytics
Preview Reports
Sales Activity Reports
Trendline Reports
Territories and Territory Reports
Here are the list of benefits that our clients are enjoying:
Easy to use interface.
The most catchy feature is Email Tracking that helps to understand the interested clients and also allows the team to send bulk emails.
Another feature that it brings is Event Tracking, it allows you to peak into the client's history while the communication is going on. This lets you know their behaviour toward your product and you can easily score them.
Management of leads is crucial to convert them to potential users. It uses 360 degree view on all the conversations and details on pending, won and lost deals.
One can have full visibility on all stages of the sales process. It is easy to sort, filter close details and distinguish bestsellers.
Analytics and reporting is another important aspect where one can build custom reports for every deal, contact or opportunity.
A knowledgeable technical team is available round the clock to answer all your queries.
Seamless integration with Google calendar allows you to have control of your events, and makes you less likely to miss any meeting. Moreover, it is easy to sync all the events, schedule demos and track them from a mobile device.
What Is A CRM ?
CRM software is a system that enables you to nurture relationships with customers and prospects to drive sales or sustain long-term profitability. It also aggregates streams of customer data to surface insights that help you make better business decisions.
What does a CRM software do?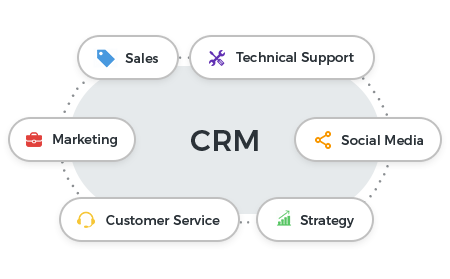 CRM software is a system that enables you to nurture relationships with customers and prospects to drive sales or sustain long-term profitability. It also aggregates streams of customer data to surface insights that help you make better business decisions.
You've learned what is CRM software, but what are its uses? There are plenty of benefits of a CRM software. It can be set up for insights, automation, integration, visibility, accessibility, and collaboration—the result is increased productivity and more efficiency to your business. Here are the key advantages of CRM software:
1.

Streamline customer profiling

Get a 360-degree visibility over your customers with details of their demographics, contact information, transaction history, and support interactions, among others. Organizing this customer information in a single, centralized location makes it easy to sort, store, and retrieve as needed.

2.

Boost sales opportunities

Having access to crucial information gives empowers you to enhance your strategies. It streamlines qualifying leads and converting promising prospects to make sure you are spending time on valuable leads. Make the right approach at the right time when upselling or cross-selling. If you have dormant customers, you can re-engage them by reaching out proactively.

3.

Leverage data-driven decisions.

The tool gives you deep insights about your customers and the market behavior by gathering disparate data together. It looks through trends, patterns, and insights to empower your strategies. You also get visibility on the sentiments of your customers towards your brand by translating the data streams coming from sources such as sales data, support interactions, and social media content.

4.

Forecast sales efficiently

You can improve your forecasting through an efficient and transparent sales pipeline. This will show you the tasks and deals that are incoming and going out. Know which of them are moving or inactive so you can respond appropriately. This also helps you make changes to ensure your business goals are achieved.

5.

Align marketing and sales

These two processes work together to improve your overall customer experience. They both share information about contacts, customer insights, and deals. Marketing teams can help your sales team increase their sales while the sales teams can empower marketing teams in their marketing strategies, brand messages, and campaigns.

6.

Monitor your customer's social posts.

Social media channels can be managed in a single platform. This makes it easy to respond when a customer reaches out to you. Brand mentions will let you know your customer's sentiments. Understand what you're doing right and improve them by knowing your customer's praises. Meanwhile, resolve and address the rants and issues thrown by your customers to enhance their experience.
Various features of CRM software can organize contacts, manage deals and tasks, automate workflows, track leads in the sales cycle, run and measure campaigns, and generate reports in one platform. CRM software also aligns the workflows and data of various departments, mainly sales, marketing, and support, and promotes collaboration among teams. How does a CRM software work will depend on how many of these features it has.
1.

Contact management.

Customer data such as contact information, support interactions, demographics, and transactions, among others, are stored in a unified hub. This also streamlines information retrieval.

2.

Lead management.

It helps you manage leads throughout its entire lifecycle right from prospecting up to conversion. Pipeline stages can be configured to match your requirements. Customer profiles and interactions are centralized for contact management.

3.

Tasks and deals.

Automatically add tasks and deals into customer information. It streamlines populating, assigning and monitoring items on your sales pipeline. Information is updated in real-time to ensure you have access to the latest changes.

4.

Email tracking.

Built-in on the CRM tool or available as an add-on, this feature gives you visibility when your email campaigns are clicked and opened. CRM tools commonly integrate with popular email services such as Gmail, MailChimp, and Outlook.

5.

Campaign management.

Empower your campaigns by managing it from creation to delivery. It segments customers, leverage targetting, and streamline workflows. Metrics are used to measure a campaign's success with data-driven insights.

6.

Social media management.

Get insights on how your audience interacts with your social media accounts. Information from comments, likes, and dislikes, among others, will give you information to improve your marketing strategies and customer experience.

7.

Reports and dashboards..

It accelerates how you generate reports in real-time with accuracy. Valuable data is consolidated to uncover crucial insights about your market, trends, patterns, and behaviors.
Testimonial
---
Alina Sharja
"A superb system with responsive support. They are consistently available for support and the system fosters us to push the deal forward."
Alina Sharja
a.sharja@yahoo.com
Greame Smith
"It completely fulfils the need of our company. We have tested many other platforms but CRM by OXO Solutions® has turned out as the best of all. A robust features product that is helping us to achieve our goals."
Greame Smith
greamesmi@gmail.com